Be Bold. Be Different. Keep people at the center of everything we do.
-Bodil Eriksson, Executive Vice President
Volvo Cars of North America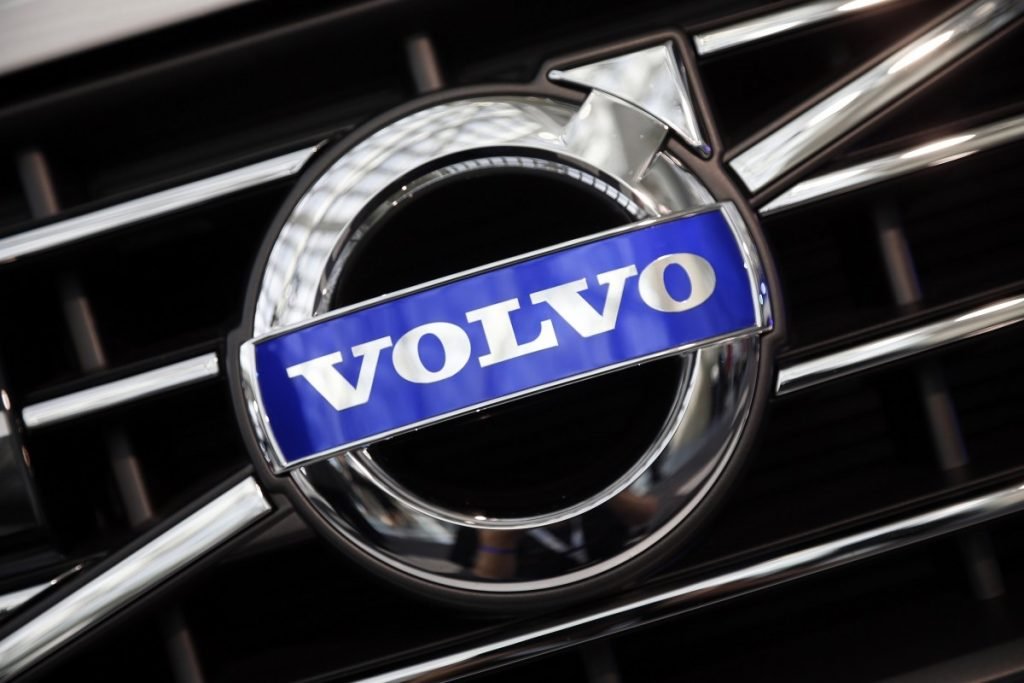 The greatest interception ever didn't happen on the field of Superbowl Sunday. It happened on Social. Volvo Cars chose a more customer-centric philanthropy instead of a big-budget advertising spend.
While Mercedes-Benz, BMW, Lexus and other car companies burnt USD 60M to buy ad time during the game, Volvo scored a social media touchdown without stepping on the green.
Last year, we saw a shift towards the use of an appealing digital methodology that shaped not just how we use digital media, but how technology can change our approach to TV advertising.
Volvo crippled the competition with their "Interception" campaign. It was called the "Greatest Interception Ever."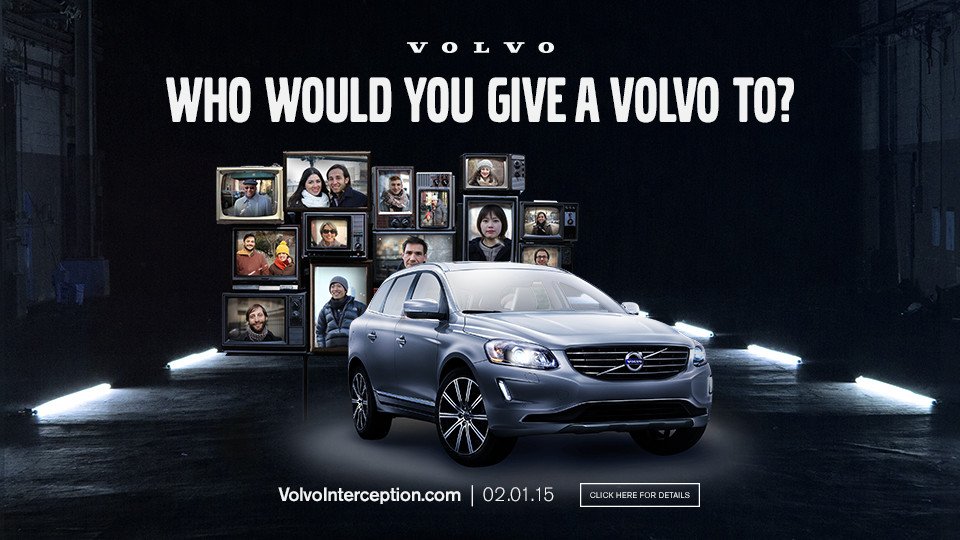 They did it not through the use of traditional media but by running a Social Media campaign. Volvo "Interception" is a socially-driven campaign alternative to the traditional TV ads. This effort is a reflection of the company's human-centric values of prioritising people first in everything that they do. You can find this in the design and cutting edge technology of all Volvo cars that's loved by drivers globally.
THE CONTEST

On Feb 1, 2015, the Swedish automakers asked their followers to Tweet using the hashtag #VolvoContest whenever any car commercial is aired during the big game. They nominated a loved one for a chance to win a new XC60 Luxury Crossover, Volvo's priority model in the U.S. market.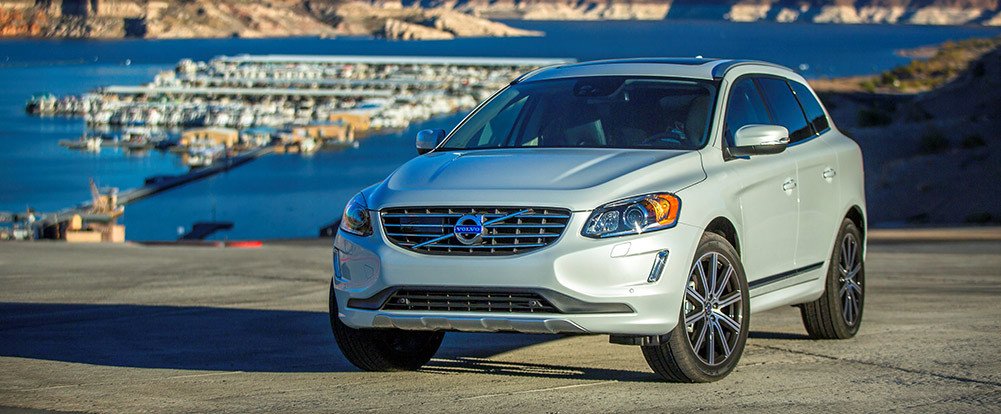 So, while the competitors are showing what matters to them, Volvo wants to know who moves, who inspires, and who matters most to their customers. The best tweets got a response from Volvo, and five lucky winners were selected.
THE CATCH
You can't nominate yourself.
The tweet had to be sent out during a competitor's 30 seconds airtime.
You are required to choose a family member or a friend to win the car.
You also have to include WHY you picked your nominee.
THE CONTEST TEASER
THE STRATEGY
Launched videos through Volvo's social channels.
Collaborated with the Jimmy Kimmel Live show and gave away a free Volvo XC60 Luxury Crossover to somebody deserving.
Informed followers to engage via Twitter and share the campaign.
Kept the visitors updated on how and when to participate.
Drove all correspondence to a mobile optimized landing page.
Generated PR around their campaign initiatives.

THE GREATEST INTERCEPTION EVER VIDEO
THE RESULTS
The campaign drove significant impact and increased visibility for Volvo.
70% Volvo XC60 sales increase the month following the game (the highest in its segment).
Received over 50,000 tweets within 4 hours on the #VolvoContest hashtag (a record-breaking outcome for any automotive brand).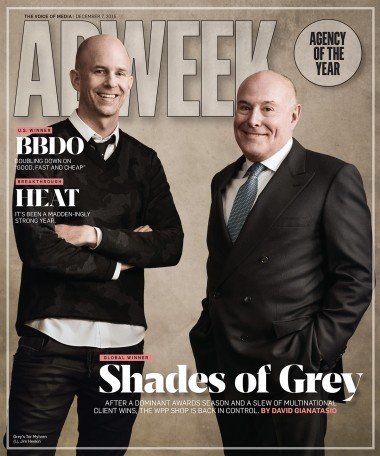 With over 80 pieces of media coverage, the campaign received over 200MM earned media impressions.
Grey New York, Volvo's advertising Agency, won the Grand Prix Awards for Campaign entitled "Interception" at the 2015 Cannes Lions International Festival in France.
The Tweets trended worldwide.
Every time a car commercial is played; Volvo Tweets spiked. Over 50,000 Total Tweets in 4 hours
THE TESTIMONIALS FROM THE MEDIA
"Volvo ambushes competition with interception campaign" – The New York Times
"Volvo gets mileage from other car commercials" – Advertising Age
"Sweden steals the Superbowl" – Aftonbladet
"A Twitter touchdown" – The Wall Street Journal
"The greatest interception ever" – Financial Times
THE TESTIMONIALS FROM THE FOLLOWERS
"Shifting the social conversation to Volvo."
"My favorite social media campaign of the year."
"I got to give it to Volvo. The smartest SM campaign of the year."
"Still one of the best advertisement campaigns ever seen."
"Creativity Steals Moments."
"Absolute genius. The best online marketing campaign I've seen. Hats off to Volvo."
"The best example I can see of innovative thinking. Creativity wins!"
"This Volvo Intercept campaign is a clever tongue-in-cheek to other car manufacturers."
"Listened to so many campaigns year to date. Still mind blown about Volvo contest."
"A brilliant example of an outstanding Volvo campaign."
"Volvo contest was a genius way of getting the conversation started, without the need for narrative storytelling."
"A great example of brand conversation on Twitter!"
"Amazing idea! Really amazing thinking from the campaign's creators."
"Volvo Made The Best (Buzz) Steal Ever."
"USD 150,000.00 per second or let people have fun tweeting while competitors' ads play and no one watches? VOLVO wins."
THE TAKEAWAY
Pay attention to what your competitors are doing. If they start going viral, find creative ways to "Ride on" or "Hijack " some of their engagements.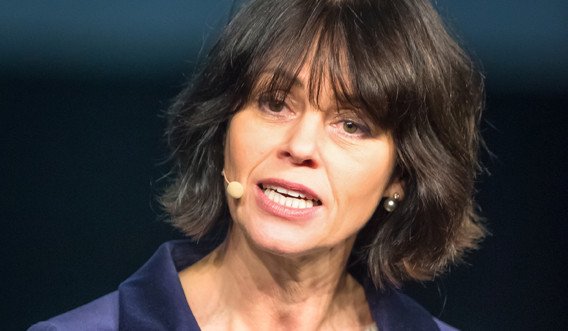 People is always at the heart of Volvo, inspiring the products and experiences we create. We want to celebrate the people and the passions that inspire our customers and us. We want to bring the mindset front and centre.
-Bodil Eriksson, Executive Vice President
Volvo Cars of North America
Did you find Volvo's idea remarkable? Is it ethical to "Hijack " your competitors engagements? Where do you draw the line? I'd love to hear from you. Share your thoughts in the comments section below.
Other Articles:

Embrace AI: Leveraging AI To Transform Your Business
Pick A Horse And Ride It: 3 Practical Tips To Get Things Done
5 Ways To Wow Your Customers Every Time
Uber's Bold Move To Fight In Enemy Territory
Don't Hold Back The "Secret Sauce"
3 Emotional Triggers That Drive People To Buy
Startup Secrets: 3 Crucial Skills Every Entrepreneur Needs
Disrupting The Disrupted: Marketing In The Era Of The "8 Second" Attention Span
Amazon Sells Customer Experience
5 Reasons why Brick and mortar is still at the core of today's shopping experience
Omnichannel: The Future Of Shopping
Interception: How Volvo disrupted the way we attract attention
The business world is reaping the benefits of this simple idea
I Figured Out Why Email Is King
5 Trust-building tactics to help you win in any negotiation
Be Present! Rewiring your brain for positive change
Good Thoughts, Bad Thoughts: Why Mindfulness practice is essential for your well-being
First Mover Advantage: Why it's always a good idea to be first?
4 Effective ways to snap out of negative thoughts
5 Smart Tips to Better Handle Criticisms
The Power of GRIT: Identifying the one character strength you need to succeed in business and life
Don't name your dog "Blackie": Gaining competitive advantage by crafting a compelling brand name
Sales Funnel 101: Increasing Your Bottom line By Knowing How your Funnel Works