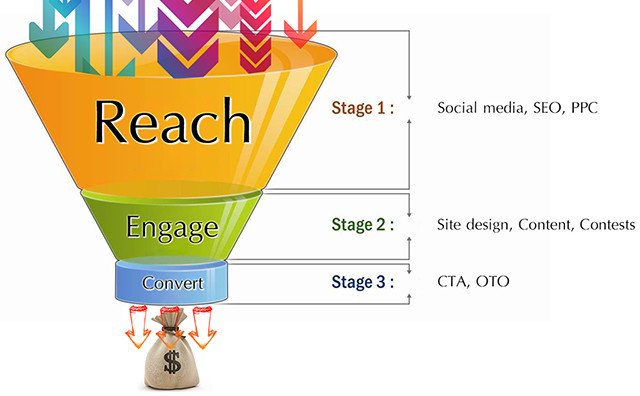 Sales funnels have always been a part of every Internet Marketer's lingo. It has been explained and interpreted in various versions across the web . This simple selling concept oftentimes, becomes a confusing topic to many. I have dissected the sales funnel into 3 simple stages. It is presented it in a way that is easy to grasp even by those who are new to this concept.
What is a Sales Funnel?
According to Merriam –Webster:
"The Sales funnel concept was derived from the metaphor of a funnel (wide opening at the top and a narrow tube at the bottom) to clearly illustrate the sales process."
The opening of the sales funnel is a catch basin of all prospects which we will call the "Unqualified Leads (UL)". These are leads come from various sources like SEO, Social Media, Email marketing, Pay per Click (PPC), Traditional marketing, and the likes. These are usually prospects that may have a potential to be converted into a customer overtime. You will then need to filter these prospects to identify who are ready to buy, which we call the "Qualified Leads (QL)".
Sales Leads defined:
A "lead" or "sales lead" according to Wikipedia is
"The identification of a person or entity that has the interest and authority to purchase a product or service".
The metaphor of the funnel was used because when the leads go through the opening/mouth of the sales funnel, it goes through a process called the "Leads Qualification Process (LQP)". As it moves down the funnel, it is then filtered leaving those leads that has a potential to be converted into a sale. Thus the narrow tube of the funnel shows that only a very few are shortlisted and the unfit are set aside for the next cycle of leads qualification. The leads qualification process will be explained in great detail below.
Why is a Sales Funnel important?
It saves you time and money when you qualify the leads early on.

It helps you focus on the leads that can easily be converted into a sale.

Shorter sales process ergo increases your bottom line.
How does a Sales Funnel work?
We will work on a premise that the prospect has a need for your product/service and that you have the product/service to serve that need. A qualified lead must comply/address all the questions below:
Is he the decision maker/influencer?

Does he have the budget?

What's his buying timeframe?
Note: Any time more than 3 months, the lead goes back to the pool of Unqualified Leads and will be filtered again on the next cycle. This is where the use of CRM tools like Highrise(37 Signals), Pipeline Deals, and Salesforce(Enterprise) come in handy.
The stages:
REACH
Important terms to know: Impressions, visitors, traffic
Tactics (free and paid methods): E-mail marketing, SEO, Social Media, PPC (Adwords), Traditional Marketing(offline)
Metrics: visits
The task of generating traffic to your sales funnel is a challenge to every entrepreneur. You have to find a cost-effective way of sourcing your leads and hope that a big chunk of it turns out to be qualified leads. Blake (Alec Baldwin) explained this very well in the 1992 Film Glengarry Glen Ross where he presented a stack of cards (the Glengarry leads) to motivate the unproductive, hapless real estate salesmen. He said that to them, that stack is Gold and to give it to them is like throwing it away. So they attempted to bribe and steal the leads to produce to eventually keep their jobs. This is how important good quality leads are. That's why it is everyone's quest to find the fountain of qualified leads.
Now back to this article. Understanding how landing pages and sales pages work is key to leads generation. You may need some technical and copywriting know how to hack these. Outsourcing it to experts can be a good idea. The opening of the sales funnel is big because you are expected to bring in as many streams to traffic from different sources as possible. Liking your Facebook page, signing up to your newsletter, subscribing to your Youtube channel, following you on Instagram, pinning photos on Pinterest are just a few strategies on how to increase traffic to your site.
ENGAGE
Important terms: Page views, downloads, video plays, Joined contest, inquiries
Tactics: Site design, Content (articles/blog, videos), Online contest, Online chat
Metrics: Bounce rates, stickiness, Opens, CTR
As prospects are gathered into your sales funnel, you need to immediately start the leads qualification process (see LQP above). This is the stage where most of the action is. The faster you can filter the leads, the faster you move down the funnel to convert the opportunity into a sale. This is the stage where you need to constantly communicate with the prospect. Ask them questions about how they like your content and maybe ask them what else you can do to improve the site. Make their user experience remarkable. Keep them engaged (sometimes termed as nurturing) via an activity in your site like an online contest, via your blog or videos( you want them to comment), via online chat and the likes. Doing so is the path to acquiring future loyal customers.
Now, once they are engaged, providing value to your leads is key. Give them infographics, reports, tip sheets, answering an inquiry, providing free consultations are some tactics that work well. Adding value helps you move down the sales funnel with ease.
Delight everybody! Make sure that your customers leave your site feeling that they got a great deal from you. And lastly, don't forget to send Thank You emails when they spend time to converse with you. This will make your service remarkable.
CONVERT
Important terms: Qualified leads, calls
Tactics: Web forms, trackable phone nos., CTA (Offers)
Metrics: Qualified Leads (phone, e-leads), Sale
This is the last stage of the sales funnel and maybe the least stressful stage of the process if you have done you work well on the first 2 stages. This is what excites every business owner. Every converted lead means money on their pockets. Once a lead is closed, make sure that promises are delivered on time. Nothing is more rewarding than seeing a customer happy with the purchase.
Tip: Don't forget the get client testimonials whenever possible. You can use this overtime to build a good reputation and credibility in your niche.
The Verdict:
At the end of the day, your goal is to convert the qualified leads into sales. This model guides you through the sales process and teaches you how to properly manage the leads. The sales funnel gives you direction and focus on which opportunities you need to work on that will eventually help you save time, money, and increase your bottom line. This is key in designing your overall sales strategy.
Have you qualified your leads or do you just sell to everyone who comes in to inquire? Do you follow a leads generation process? How does it work for you? I'd love to hear from you. Share your thoughts in the comments below.
Other Articles: